Bud Elder – Candidate for the CCA Board of Directors
June 3, 2023 in BFCA, BTJA, DOCS, International, MOVIES, News, TV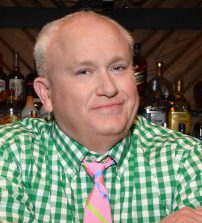 Bud Elder
My name is Bud Elder. The first movie I ever reviewed was "Young Frankenstein" when I was 16. And I've never stopped. Currently I share my humble opinions on the 34 stations along the Sooner Network of Radio Stations in Oklahoma, Texas and Kansas.
I think I'd be a good addition to the CCA Board.
And I'm dang proud of being in the CCA. It's like going to a strange planet and meeting a group of aliens just like yourself. This is true – I've really loved meeting all of you when we cross paths. I read what you write and watch when I can find you.
I'm running for this reason – while I love my colleagues on both coasts, maybe it's time to add a board member from the "flyover states." We sort of live a different life here. We usually must beg for attention from studios and we're somewhat of an afterthought. A board member from this region might really help the situation.
Even though I'm from a small state in the southwest, I know the film business extremely well. I was the longtime Oklahoma Film Commissioner and have worked with studios for many years. I founded a technical film school and have placed my students all over Hollywood.
And it seems as though I'm a professional board member. I serve on the State Library Board, the State Arts Council, the Oklahoma Merit Protection Commission and all the university film boards in the state. I know how to collaborate and how to shut up when meetings are held.
My best friend, until his recent death, was Gray Frederickson, Academy Award winner for producing "The Godfather Part II." Gray was a Hollywood fixture who produced many other film classics. Because of him, I have had access to everyone from "A" list stars and directors to studio heads. I know very well all the players in the recent series "The Offer," from producer Leslie Grief to subject Al Ruddy.
Heck, I even just produced a movie in which I also acted. "Second Chances" is on Amazon and I have truly learned the plight of getting an independent film produced, promoted and distributed.
I feel honest film reviewing holds a very important place in today's economy. Unlike the Depression, when movies were an inexpensive way to forget the troubles of the day, movie-going today is a major decision for families on a tight budget. That I can offer a little insight into what might be worth their time and money makes the work worthwhile.
I'd love your vote. And am thrilled for the opportunity.