Paulette Cohn – Candidate for the CCA Board of Directors
June 3, 2023 in BFCA, BTJA, DOCS, International, MOVIES, News, TV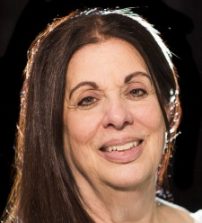 Paulette Cohn
Thank you for taking the time to read this – especially for those of you who do not know me – to help you decide if you would like to cast your vote to reelect me to a second term on the Board of Directors of the Critics Choice Association.
One of my main functions on the Board over the past two years has been to represent the TV members as the majority of my fellow Board members are in the film division. Not that I, like several others, don't cover both TV and film, but I did join as a Broadcast Television Journalists Association (BTJA) back in 2014 or 2015. I think it's important for the Board to have representation from all the divisions of CCA.
During my time, I have been an active member, serving as chairman of the Limited Series and Movies nominating committee for the past four or 5 years, and also serving as a nomcom member for the Real TV Awards, as well as making sure to publicize the events as much as possible on social media.
If I were to be reelected, I would continue my efforts on behalf of CCA, helping to build on the success of the past several years, which has seen the addition of the Real TV Awards, the Documentary Awards and the Super Awards, as well as several cinema celebrations.
Even though this past two year has seen three women join the Board, it is important to keep that representation, so in electing me, I not only speak for the TV journalists, but also women. And along that line, one of my duties as a Board member has been to oversee the Women's Committee, which is one of the most active committees in CCA. Not that I can take credit for all their hard work. But the Women's Committee has done excellent work this past year, including the inauguration of the SOFEE seal, which recognizes outstanding new films and television series that illuminate the female experience and perspective.
You can also count on me to work hard to expand the goals of the organization and look for new ideas and ways to increase our esteem as a group.
We also need vision for the future to help grow a strong but also respected organization. We are off to a good start with our close to 500 diverse members, and now is the time to get more recognition for the Critic Choice Awards, which have more substance to them than the Golden Globes. Our voting membership is larger, more respected, more thoughtful, and more diverse, so this could be the time for a step up.
If elected to our Board of Directors, I will bring with me my 20-years of experience writing extensively on the entertainment industry, covering TV and films for Parade magazine, Parade.com, Monsters & Critics, FOX411, Biography.com, TV Insider, Paste, ETonline, and more. Much of my time has been spent freelance, so I have also had to develop a sense for business as well.

Prior to that, I worked as a publicist at independent PR firms representing film and TV clients, and spent five years as the publicist for Days of our Lives, even co-authoring Cooking with Days of our Lives. My experience as a publicist will be of benefit as a Board member in the CCA's coordination with networks, studios, and independent publicists as I understand how they think!
In closing, if you vote for me, I will do my best to live up to the endorsement from Joey Berlin, TV President Ed Martin, and the current Board members, who saw fit to back my nomination.