Member Profile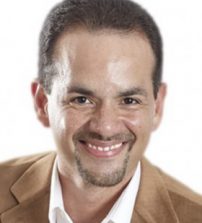 Alfredo Amy

Primary Outlet:

http://www.cinefama.com/

Additional Outlets:

EL REGUERO (Radio 94.7fm)

Website:

Facebook:

Biography:

Born on April 19th, in San Juan, Puerto Rico. His passion for movies began since he saw for the first time Indiana Jones Raiders of the Lost Arc (1981) with his dad. Alfredo began working at the biggest movie theatre chain in Puerto Rico for many years. While working at the movie theatre, Alfredo completed a BA at the University of Puerto Rico and a Master Degree in the Interamerican University, Alfredo launched the movie outlet CineFamaPR where he published movie critics and news. He started hosting a weekly movie segment at LA NUEVA 94 (94.7fm) - EL REGUERO (SBS Entertainment) every thursday at 6:30pm where he reports entertainment news, latest new releases and movie reviews and critics. The radio movie segment became Puerto Rico's favorite until present time. Also in the same year and simultaneously, he started a weekly TV movie segment at MEGATV Puerto Rico (SBS Entertainment) - LA MOVIDA program where he reports movie reviews and critics every thursday at 2:00pm until present time.