Member Profile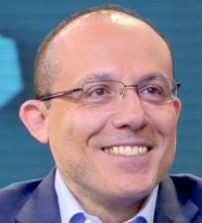 Daniele Compatangelo

Primary Outlet:

RTI Reti Televisive Italiane - Mediaset

Additional Outlets:

SSR Swiss Public Television

Website:

Twitter:

Facebook:

Biography:

Daniele Compatangelo is an Italian correspondent and face of the Hollywood entertainment from the USA, for more than a decade, on RTI Reti Televisive Italiane - Mediaset. RTI airs on three different networks (Italia Uno, Canale 5 and Rete 4) in both Europe and Italy, reaching millions of Italian speakers between the nightly news and different entertainment shows, included the Italian Today Show. In his twenty five years of career, he has received several recognitions and awards in the news field both in USA and Italy. Being an athlete him self, he started his career as sport correspondent and covered eight different Olympic Games worldwide, before covering breaking news and entertainment from the United States. Although he has interviewed the most famous Hollywood celebrities and covered the biggest LA movies and awards, he deeply believes that a "jewel" can also be discovered in independent and small productions.