Member Profile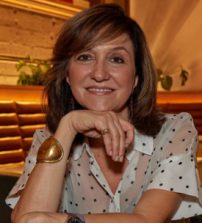 Francesca Scorcucchi

Primary Outlet:

Il Corriere della Sera

Additional Outlets:

Vanity Fair Italy - CIAK Magazine

Website:

Biography:

Journalist and television producer, she has worked for 20 years between Italy and the United States of America in the fields of film and television journalism. She has collaborated and still collaborates with newspapers such as Il Corriere della Sera, Ansa, Vanity Fair Italia, Ciak, Best Movie, Di Repubblica, Sette, La Stampa, Il Secolo XIX, Il Messaggero, Il Mattino Napoli, Yahoo.it. Founder of the press and photo agency KIKA PRESS and of the American production company The Spotlight Company, Inc., of which she is CEO. Founder of the cultural association Good Girls Planet that organized the first edition of ITTV, a festival of Italian television in Los Angeles. In the past she has been the news director of the regional Ligurian broadcaster Tele Nord. She graduated in Political Science with a thesis in History of Journalism, entitled 'La difficile fascistizzazione de Il Secolo XIX', reported to the competition established by the Order of Journalists of Lombardy. Since 2018 she is Ambassador of Genoa in the World.