Member Profile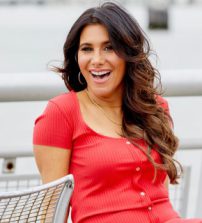 Joelle Garguilo

Primary Outlet:

NBC NEW YORK (New York Live)

Additional Outlets:

TODAY SHOW (with Hoda & Jenna)

Website:

Twitter:

LinkedIn:

Biography:

After working in the field of Accounting and Finance, Joelle Garguilo left it all behind to pursue a career in Broadcasting and hasn't looked back since. Joelle Garguilo is a dynamic storyteller, an Emmy-Award Winning reporter and host who brings every ounce of her heart to every story she tells; from human interest to entertainment interviews and reviews. Joelle has that rare ability to make you feel like you're the only person in the world when she's talking with you, a trait that's led to her success in the industry and garnered her a reputation as one of the most captivating hosts and interviewers in the game. Hearing "that's a great question" during interviews is simply the norm. Every one of Joelle's reports, whether it's a social media post, an Interview with the likes of Oprah or Tom Hanks, or a story about a nonprofit making a difference, ALL will leave you feeling better than before. Not only does the on-air personality shine as talent in her videos, she also produces, writes, edits and shoots. You can catch her on NBC's New York Live, The TODAY Show, Boston's Hub Today, Philadelphia's Philly Live and more.