Member Profile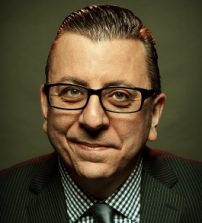 Richard Crouse

Primary Outlet:

CFTO; CTV's News Channel, Bell Media

Additional Outlets:

NewsTalk 1010 (and syndicated Bell Media radio stations across Canada)

Website:

Twitter:

Facebook:

Biography:

Richard Crouse is the regular film critic for the 24 hour news source CTV's News Channel and CP24. His weekly talk show Pop Life airs on CTV NewsChannel. In 2011 he hosted In Short, a series of eight hour long show showcasing BravoFact's best short films. He was the host of Reel to Real, Canada's longest running television show about movies, from 1998 to 2008 and is a frequent guest on many national Canadian radio and television shows. His syndicated Saturday radio show, The Richard Crouse Show, originates on News Talk 1010 in Toronto. He is also the author of nine books on pop culture history including Who Wrote the Book of Love, the best-selling The 100 Best Movies You've Never Seen, its sequel The Son of the 100 Best Movies You've Never Seen, the bestselling Raising Hell: Ken Russell and the Unmaking of The Devils and Elvis is King: Costello's My Aim is True. He also writes a weekly column for Metro newspaper.